Spring 2023 Planned Repeat Breeding
All puppies are in their homes.  Two brindle males, two fawn males, and one "special" brindle female. The brindle female puppy now known as Frickle was born with a birth defect called a Portosystemic Shunt. She stayed here and is preparing to have a procedure done to help with her shunt . Portosystemic Shunts are a rare, serious defect which is not thought to be hereditary in Mastiffs. It is hereditary in Wolfhounds. 
We think that Frickle's shunt is a fluke, but the puppies produced from a repeat breeding will be screened for shunts prior to leaving for their homes.
The boys are all doing great and showing promise.  Frickle herself is absolutely perfect in every other way, and is exactly what I had hoped for in this breeding. I am of course disappointed for her that she has this condition, and for me that I can't use her   to extend my work in my breedings.  I do my breeding for myself ; and my hobby . Not to sell puppies. So in repeating this breeding I am ever hopeful that I will get a beautiful pick bitch puppy like Frickle ; minus the liver shunt.
And Frickle will continue to be the shining bit of perfection that she is in our homes and hearts!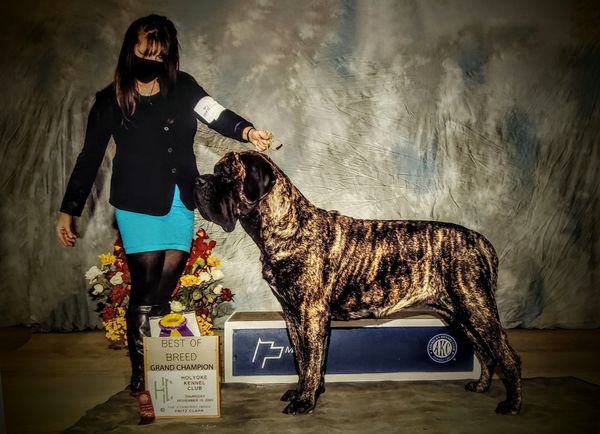 Owenspride Striper He's A Keeper

Ch

Skamania's Dusk to Dawn

Am Can CH

Skamania's Tug Beau-T

Int US/CA Ch

Coltons Beauregard

Ch

Kirk's Red Baron Of Portland

US/CAN Ch

Moonstone's Skamania Jasmine

US/CAN Ch

Moonstones Nobelest Rasputin

CH (AKC)

Moonstone Heather-U-Promised

Stonebridge Moonstone Sara

Storm Sweet Dreams Skamania

Storm Cannon of Royal Oak

Storm Gruffudd Of Royal Oak

Ch

Storm Dixieland Delight of BH

Storm Philly of Swede Road

Greiner Hall Raven Noblehall

Greiner Hall Medicine Lady

Greiner Hall Raven Noblehall

Greiner Hall Zee F Audrey

SW FIN NOR DEN CH

Alvedor's Aragorn

Dreamquest's Freedom Reigns at Glacier

Dreamquest's Theoden King

Ashley-Greco's Rennaissance Lady

Greiner Hall Brilliant Disguise

Glacier's I've Got You Under My Skin

Ch.

Greco's Titan I Did It My Way

CH

Greco's Hollesley Rogue

Greco's Hollesley Trist Jean

Dreamquest's Simply Irresistible

Ashley-Greco's Rennaissance Lady

Ashley-Greco's Bredwardine

GCH

Rolling Rock's Boston Brown Bread

GCH CH

Friends Dohse Let Friends Drink Alone

CH

Ivory's Die Hard With A Vengence

Am Can CH

Wrightous Titanic Of Ivory

Dandylion's Gars Garibe Girl

CH

Silver's Lace At Dion's

CH

Silver's Double Trouble

Silver's Delta Dixie Chick

CH

Oaklane's This Bud's For Us

CH

Ironclad Turrean Of Celtics

Badger Mtn Caph Bint Moon

CH

Pleasant View Of Moonstone

CH

Lionsire Reign De Justine

CH

Brodancroft Easy Dohse It

CH

Moonhill Dohse Drinks R On Us

CH

Fantasy's DDA Thunderstruck

CH

Pinewood His Maj Holy Moses

Gloribee Fantasy Back In Black

CH

LazyD Moonhill Moonshine

CH

Lazy D's Fortunate Son Of Marv

BIS BISS CH

Ironclad Ironhill Ivana

SW FIN NOR DEN CH

Alvedor's Aragorn

Storm's Hooked On A Dream

Storm Cannon of Royal Oak

Crossroads Hot & Spicy At Jug Head Mastiffs

Knights Grizzlys Caliente

Storm Cannon of Royal Oak

Greiner Hall Black Dahlia

Greiner Hall Raven Noblehall

Mill Creek Twisted Sister

Mill Creek's Storm Dancer

Crossroads Sheridan of Greiner Hall

Knights Grizzlys Caliente

Storm Cannon of Royal Oak

Chagrins Dreamquest Crossroads Kearny

Dreamquest's First Edition

Granite View's Egan Of Greco

CH

Pallones Here's Lukin Attcha
Glacier's Oh, Pish Posh! RN

GCHB Friends Dohse Let Friends Drink Alone

CH Badger Mountain Orpheus

CH. Brodancroft Easy Dohse It

Ch. Moonhill Dohse Drinks R On Us

CH Crossroads Hot &Spicy at Jug Head Mastiffs

Greiner Hall Black Dahlia

Crossroads Sheridan of Greiner Hall

Chagrin's Dreamquest Crossroads Kearny