We lost Pickle at 9 years 3 months due to a bone tumor. She was a tremendous mastiff.
Born 12.6.1996 OFA Hips GOOD ; elbows normal CERF'd normal thyroid normal dominant PRA homozygous normal UPENN cystinuria negative

OFA prelims GOOD, elbows NORMAL, OFA Cardiac NORMAL ( practitioner and ECHO) PENNHIP .53/.50 40th percentile, no DJD; PRA DNA clear by parentage; CERF(#194754) retinal folds; UPENN cystinuria negative

SW DEN NOR FIN CH Alvedor's Aragorn

CH Greiner Hall Knights Isa-Tai

Greiner Hall Chagrin Stars and Stripes
19 months
Owenspride Caught in a Pickle
aka "Pickle"
D.O.B. 4/25/08

( Ch. Brookside's Worth the Weight CGC
X
Ch. Sherwood's Anticipatience RE CGC)


We could NOT pick between Cornflower and Lilac....they were BOTH so lovely, but so very, very different!!
I am a huge Red Sox fan and I watch alot of baseball..I kept thinking to myself, "Wow, we're really caught in a pickle here!!!" as we tried to make  The Pick.
         ( during baseball season, everything becomes a baseball metaphor!)
We couldn't imagine not keeping Lilac, as we had decided she was The Mini Patience........and she was so very sweet and attached to us, it seemed.....but then we'd say, but if we keep HER, how can we NOT keep Cornflower??  Cornflower was my favorite from the first day; with her squared -off and blunt little muzzle and her dark, dark, raccoon like body....
When we tried the puppies outdoors the first time , Cornflower was the bravest and most curious of the lot. She march around on those little stubby  legs like she had been out there a million times before. The other puppies were appropriately cautious, but not Corn!
We LOVE this puppy, she is a perfect mix, in personality, between Owen and Patience. She is the type of bitch puppy I love, ALL dog.  She is Owen in a girl's body; she is perfect and we adore her in every way.
I love her thick, thick build; her big head and incredible dark pigment, even as a tiny puppy she exuded true Mastiff breed Type.    We are extremely proud of her!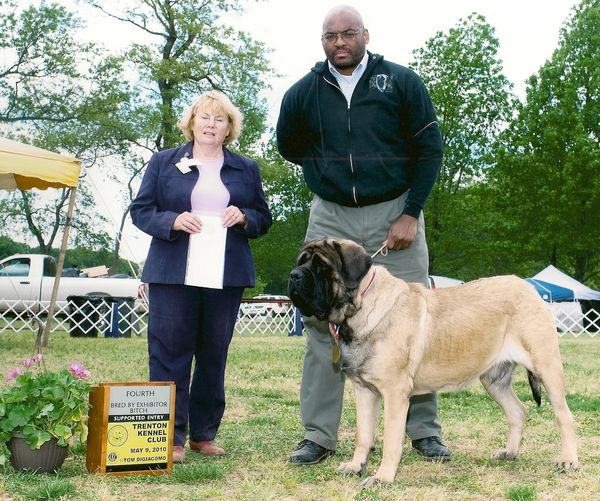 Pickle in the Show Ring:

Pickle started out her show career early, at six months of age.

Her first time out she took a Major Win! ( 3 points)
A few weeks later she took a Puppy Group 4!
Pickle has 7 points to date, towards her AKC championship.  Very limited showing,
as she is a busy girl with a fun filled life! :)

Pickle has 7 points and one leg towards her Rally Novice title.

3 point major win, 6 mos. old