Striper is a proven stud and is offered at stud to bitches of similar quality and merit.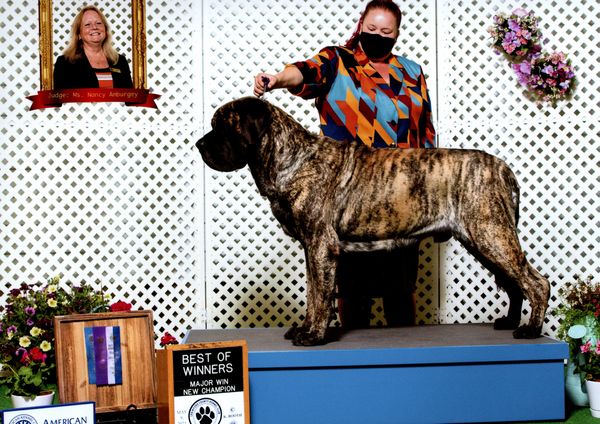 Striper is Meep's littermate and Pishy's son.  We co own him with Ken and Patrice LeBlanc who are two of our favorite people on earth.   We are OVER THE MOON thrilled with how Striper is developing as a Mastiff.
He has a wonderful temperament; is very smart and is excelling at his Obedience work with Ken and Patrice. They give him a life full of opportunity and fun; and I get the ability to steal him when he doesn't have other plans; and show him!
As his breeder and owner; I place the emphasis on Striper enjoying his life with the family with which he lives; NOT on traipsing around going to shows. If this dog showed with intent; he would be finished already! He is just awesome and I am super proud of him. 
Striper is available at stud to bitches of merit.
Health Clearances :
OFA Hips good, elbows normal
CMR clear
PRA clear
DM clear
Cystinuria normal/ negative
Moonstones Noblest Rasputin

Stonebridge Moonstone Sara

Storm Cannon of Royal Oak

Storm Guffodd of Royal Oak

Storm Philly of Swede Road