Ch. Brookside's Worth The Weight, CGC
aka "Owen"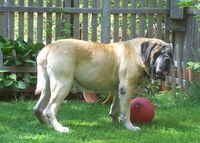 Born 12.6.1996 OFA Hips GOOD ; elbows normal CERF'd normal thyroid normal dominant PRA homozygous normal UPENN cystinuria negative
Abraham's kids, Owen ( left) Lilith ( right)
Abraham's son , Owen
2 years of age. Semen Freezing Day!
Five years
Owen 7 years old; with Maggie and Huck
CH. Brookside's Worth the Weight CGC
          12.6.1996- 12.9.2007
          Eleven Precious Years
          We're lost without you, Hoovie.  PLEASE visit "Sweet Memories" for Owen's Memorial.

          * click here for  Owen's testing*
          * click here for Owen's pedigree*
          * click here to see some of Owen's relatives*
          * click here to see Owen on the Mastiff Longevity Project page*

Owen was born in December of 1996; three days after my own birthday in fact.
I had wanted a mastiff of my own for a few years; ever since meeting an abandoned brindle mastiff named Goldie who was found and brought to a clinic I worked at in Chicago. The old girl had been left in a basement and the people had moved without telling anyone she was there.  The new owners of the home arrived a few days later from out of state; to move in; and found Goldie in the basement with no more food or water. She had a raging cellulitis and infected hock and could hardly walk. She had been abandoned and was hungry and thirsty.  And she came shuffling in to the clinic...tail wagging.
She was both the largest and the gentlest dog I had ever laid eyes on.  We all marvelled at her; at how stoicly she handled the treatments we performed on her for so long; and at how fate had done it's job in making the connection between her and these new people; the people who bought "her" house ( white collar business people who wore expensive clothes and had no pets or children).  Before they even got her to our clinic, they had decided they wanted to have her forever.
It would be years before mastiffs even crossed my mind again; after moving out of an apartment into a house with a nice yard.  
The second time I saw a mastiff, I was driving home from work with a case of dog food on the back dashboard of my car. I saw a pretty girl walking a HUGE tan thing.  I was staring at her and driving along 
when suddenly BANG!  I rear ended the guy in front of me!  The dog food came flying up at me and konked me in the head.   When the police arrived,  we both discovered that I was driving on an expired license.
  But I digress!  Anyway, this big tan thing was a  mastiff; and after the smoke cleared I did get to talk to his owner and she invited me to bring my hubby over to their home and meet him too.  Ron wasn't exactly as interested as I was in this little visit; but I knew once he got his hands on one of these dogs, he would want one too. 
Ron liked the dog alot.  Pretty soon he was talking about mastiffs alot.  Pretty soon we had "the" talk.  We talked about how nice it might be to have a squishy one of our own; and for our shepherd mix Huckleberry to have a brother.
So the search for Owen began.
I did alot of research; we visited this breeder and that breeder, here and there.  The breeder that we were most impressed with was Nancy Pitas ( and her husband, John) of Brookside Mastiffs in Attleboro, Ma.
The day we went to visit for the first time I think we were there for at least four hours.   We were stunned by the hugeness and the gentleness of her dogs, who sat next to us on the couch as if they were people , listening to the conversation. I'll never forget the PUPPIES she had there that day; to this day I've never seen puppies more gorgeous than those puppies. 
Nancy was the kind of breeder that was ideal for first time mastiff owner.  She was very open and informative, and didn't sugar coat anything. She made sure we were okay with the drool, shedding, snoring,gas passing, financial commitment etc. that come along with our giant friends.  When we left that day, we weren't sure if we had "passed" the test; as she would not commit to putting us on her Puppy List.
When we finally were put on it, we were soo excited.  We counted the days til Owen would be born.  We had a white board at work, and up in the corner we kept a little "D.T.O Counter". ( Days Til Owen).  
Owen was a large and luscious baby. I don't remember him going through any awkward teens but rather always being gorgeous.  However when I look back at teen photos of him , I can see that he had the same rough periods that all mastiffs have!  He turned out wonderfully though; and as our first show dog and first mastiff; he has excelled in our eyes and in the eyes of many of our colleagues.
I owner handled him to his CH title with fairly limited showing.  His sister Brookside's Lilith was a carbon copy of him ; and John Pitas handled anf finished her at the same show! We  had their CH photo taken together; what a memorable day that was. 
Please click on smaller pics to enlarge!