Pumpernickle wins Select Bitch at Westminster in 2021!!!!!
Pumpernickel has exceeded all of our expectations which is saying a LOT. Noone can say that we don't expect excellence out of our dogs here. That is not to say PERFECTION which is unattainable.   Hence Pumpernickel has many fantastic traits and a few faults which we have taken into consideration in planning her path forward with us at Owenspride. 
We have selected a stud for her who we are EQUALLY thrilled with !
Look at the Planned Breeding page for more information. 
Pumpernickel 's Pre Breeding Health Testing :
DNA testing:
Progressive Retinal Atrophy- CLEAR
Degenerative Myelopathy- CLEAR
Canine Multifocal Retinopathy-
CLEAR
Cystinuria -
1-1 NORMAL
OFA Cardiac normal (echo)
OFA Hips Fair
OFA elbows Normal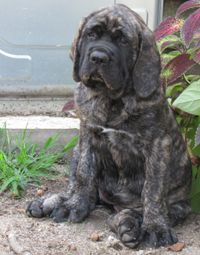 GCHB Friends Dohse Let Friends Drink Alone

CH Badger Mountain Orpheus

CH. Brodancroft Easy Dohse It

Ch. Moonhill Dohse Drinks R On Us

CH Crossroads Hot &Spicy at Jug Head Mastiffs

Greiner Hall Black Dahlia

Crossroads Sheridan of Greiner Hall

Chagrin's Dreamquest Crossroads Kearny